Autumn Breeze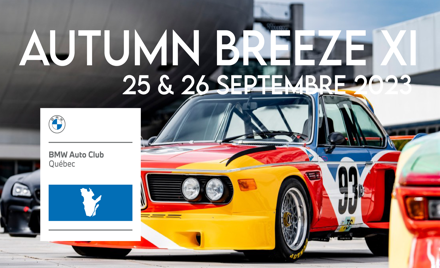 BMW Auto Club Quebec
Monday, Sep 25 — Tuesday, Sep 26, 2023
Circuit Mont-Tremblant
,
Mont-Tremblant

,

QC
Registration closed September 22, 2023 11:59 PM on September 22, 2023 11:59 PM EDT Registration ends September 22, 2023 11:59 PM on September 22, 2023 11:59 PM EDT Registration opens February 12, 2023 12:00 AM on February 12, 2023 12:00 AM EST Registration runs from February 12, 2023 12:00 AM to September 22, 2023 11:59 PM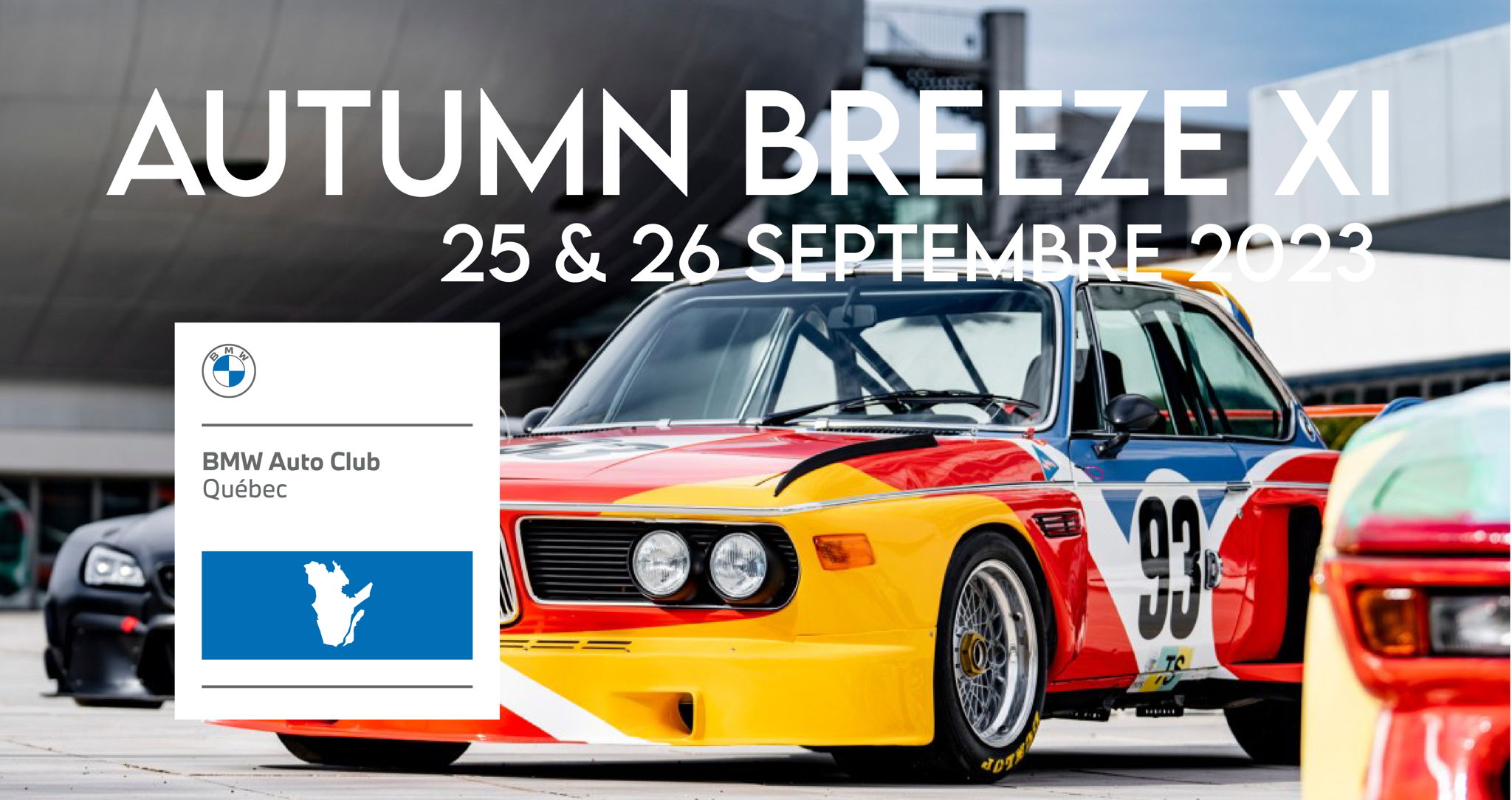 Autumn Breeze @ Le Circuit Mont-Tremblant
Lundi et mardi, 25 et 26 septembre.
Frais d'inscription*:
Tarif lève-tôt 1 125$ CAN jusqu'au 5 mai
Tarif régulier 1 250$ CAN du 6 mai au 17 septembre
Tarif 1 jour 625$ CAN jusqu'au 17 septembre
* Les prix de tous les services comprennent les taxes applicables. Votre carte sera debitée 6 semaines avant le debut de l'évènement
Vous devez être membre en règle pour vous inscrire à un événement. Veuillez renouveler votre adhésion pour obtenir le statut « Approuvé » dont vous avez besoin pour vous inscrire.
Les candidats qui n'ont aucune expérience antérieure de conduite sur piste, peuvent être admissibles à un rabais de 200$ sur les frais d'inscription pour leur premier événement uniquement.
Veuillez communiquer avec le registraire pour plus de détails.
​Si vous avez des questions, veuillez référer à la section FAQ de notre site web ou communiquer avec le registraire de l'événement à reg@BMWAutoclubQuebec.com
Monday and Tuesday, September 25 and 26.
Registration fees*:
Early-Bird Rate $ 1125 CAD through May 5
Regular Rate $1 250 CAD from May 6 through September 17
1 day rate $ 625 CAD from May 6 through September 17
* Prices for all services include applicable taxes. Your card will be debited 6 weeks before the start of he event.
To register for any event, you must be a member in good standing. Please renew your membership to get the "Approved" status that you need to register.
Candidates with no prior track driving experience may be eligible for a 200$ discount off registration fees for their first event.
Please contact the registrar for details.
If you have any questions, please refer to the FAQ section of our website or contact the event registrar at reg@BMWAutoClubQuebec.com
Requirements:
Règlements:
Tous les candidats doivent être titulaires d'un permis de conduire valide avec un minimum recommandé de 2 ans d'expérience de conduite. Toutes les voitures doivent être munies de sièges et de ceintures de sécurité/harnais équivalents pour le conducteur et le passager. Les harnais avec 4 points d'ancrage sont interdits. Les harnais avec 5 ou 6 points d'ancrage ne sont autorisés que dans les voitures équipées d'un arceau ou d'une cage de sécurité. Les harnais doivent être utilisés conformément aux instructions/recommandations du fabricant du harnais, ce qui implique habituellement l'utilisation d'un siège de course dédié. ATTENTION, NOUVEAU POUR 2023: Pour les véhicules équipés avec des harnais 5 ou 6 points (donc avec une cage) l'utilisation d'un RFT ou dispositif "HANS" est obligatoire pour le conducteur ainsi que le passager. Les décapotables avec des arceaux d'origine fixes peuvent être acceptés, à condition qu'ils passent le « test de manche à balai ». Les décapotables avec des arceaux « pop-up » d'origine sont acceptés sans l'exigence du « test de manche à balai ». Les cabriolets sans arceaux d'origine approuvés doivent avoir des arceaux de sécurité approuvées, des harnais de course à 5 ou 6 points et des dispositifs de retenue des bras. L'arceau doit passer le « test de manche à balai ». Les cabriolets doivent rouler avec le capot fermé. Les participants doivent faire inspecter leur véhicule par un mécanicien certifié, dans les 3 semaines suivant la date de l'événement (voir formulaire). Le jour de l'événement, le club effectuera une inspection technique de tous les véhicules. Toutes les voitures doivent passer l'inspection technique pour participer à l'événement. Le BMW Auto Club Québec se réserve le droit de refuser l'accès à toute voiture jugée non sécuritaire. Tous les participants doivent porter un casque portant la certification Snell SA2015-2020 ou M2015-2020. Les conducteurs de voitures avec intérieur « vidé », arceau de sécurité ou cage de sécurité, doivent porter un casque avec la certification SA. Prenez note qu'il s'agit d'une ECOLE DE CONDUITE AVANCÉE et non une course. En aucun cas les tours chronométrés ne seront tolérés. Si vous avez des doutes sur l'éligibilité de votre voiture, veuillez contacter notre registraire pour obtenir des précisions. NE PAS amener votre voiture à la piste et essayer de plaider votre cas. Si vous le faites et que votre voiture est jugée non éligible, vous ne serez pas autorisé à participer, et vos frais ne seront pas remboursés. En soumettant le formulaire de demande, les candidats conviennent d'avoir examiné les règles et règlements du Club (disponibles au bureau du Club ou en téléchargeant à partir du site Web du Club) et de les respecter.


Rules and Regulations:
All applicants must hold a valid driving license with a recommended minimum 2 years of driving experience. All cars must have equivalent seats and seatbelts/harnesses for driver and passenger. Harnesses with 4 anchoring points are forbidden. Harnesses with 5 or 6 anchoring points are only allowed in cars equipped with a roll bar or roll cage. Harnesses should be used in accordance with the harness manufacturer's instructions/recommendations, which usually entails the use of a dedicated racing seat. ATTENTION, NEW FOR 2023: For vehicles equipped with 5 or 6 multi-point harnesses (and therefore Roll Cage equipped) the use of FHR head restraints or "HANS" device is mandatory for the driver and passenger. Convertibles with original factory fixed hoops may be accepted, provided they pass the "broomstick test". Convertibles with original factory pop-ups are accepted without the "broomstick" requirement. Convertibles without approved factory hoops must have approved roll bars, 5 or 6 point racing harnesses, and arm restraints. The roll bar must pass "broomstick test". Convertibles must run with the top up. Participants must have a technical inspection performed on their vehicles, by a certified mechanic, within 3 weeks of the event date (See form). On the day of the event, the club will do a follow-up technical inspection of all vehicles at the track. All cars must pass tech inspection to participate in the event. The BMW Auto Club Quebec reserves the right to refuse access to any car deemed unsafe. All participants must wear helmets bearing either Snell SA2015-2020 or M2015-2020 certification. Drivers of cars with gutted interior, roll cage, or roll bar, must wear a helmet with SA certification. Please take note that this is an ADVANCED DRIVERS SCHOOL and not a race. Under no circumstances will timed laps be permitted. If you have doubts about the acceptability of your car, please contact our registrar for clarification. DO NOT bring your car to the track and try to plead your case. If you do and your car is determined to be unacceptable, you will not be allowed to participate, and your fees will not be refunded. By submitting the application form, the applicants agree that they have reviewed the Club's rules and regulations (available from the Club office or download from the Club's website) and to abide by them.
Already have a MotorsportReg account?
---